GAMIFICATION & BEHAVIOURAL DESIGN MASTERCLASS
Create a systematic approach to
tap into the psychology of human behaviour
With shrinking attention spans and an increasingly distracted society, human centricity and empathetic design have become more crucial in designing user experiences in order to build engagement and drive desired user behaviours.
This Gamification & Behavioural Design Masterclass will teach participants the systematic approach to gamification design and how to tap into the psychology of human behaviour.
Participants will be placed in a learning environment where they will work in teams to craft design campaigns based on the provided scenarios. Throughout the masterclass, participants will engage in numerous discussions, brainstorms, case studies, and feedback sessions with the trainer. Participants will also receive a workbook.
Understand the fundamentals of gamification and behavioural design.

Identify user motivations and implement design elements using gamification frameworks.

Understand how to systematically design user experiences that drive desired user behaviours.

Recognise how gamification can be applied for behaviour change.

Understand how to create engaging experiences.
CEOs / Managing Directors

Business Owners

CTOs

CIOs

UI / UX Designers

Product Designers

Website Developers

Mobile Application Developers

Software Developers

HR practitioners

L&D practitioners

Marketers
Wednesday - Friday, x - x March 2023

9.00 am - 12.00 pm

Online via Zoom

9 contact hours
Topic 1: The Basics - What is Gamification & Behavioural Design?
Understand the difference between games and gamification

Understand the Game Thinking umbrella and different forms of gamification
Topic 2: Motivational Design - How to drive human behaviour
Understand the psychology of human behaviour and the different core drives of human motivation

Identify the main user types of an experience

Craft empathy maps
Topic 3: Action Dynamics - Designing for ease and difficulty
Managing cognitive friction

Psychological safety

Economic design

Boosters and power-ups
Topic 4: Nudge Mechanics - Triggering desired actions
Feedback loops

Narrative and storytelling

Social mechanics
Topic 5: Design Framework - A systematic approach to Gamification & Behavioural Design
Identify the essential elements of gamification and behavioural design

The 4 phases of the user journey

Brainstorming design elements
Topic 6: Ethical Design - The ethics of Gamification & Behavioural Design
Understand the ethical responsibilities of behavioural designers

Identify and test for manipulative design
Sufiz Mohd Suffian is the Co-Founder of Recur Consult. He consults, trains, and speaks on Gamification, Behavioural Design, Design Thinking, Marketing, and Learning and Development.
He is among 130 individuals in the world to be certified in Octalysis Gamification - one of the leading Gamification frameworks used internationally. He has designed international award-winning gamified experiences that have led to real behavioural change and business results by leveraging gamification design methodologies and habit building models. He has spearheaded gamification and behavioural design consulting projects in the region, ranging from product design, marketing gamification, community gamification, learning and development, and people and culture transformation. His past clients include Fortune 500 companies, multinationals, government agencies, international business schools, international consultancy firms, small to medium enterprises, technology companies, training providers, and startups.
As a trainer, he has delivered impactful talent programs at the regional level and facilitated corporate learners from junior to senior levels that resulted in high engagement and retention, while achieving actual business results. He has conducted training sessions for companies such as Axiata Group, SME Bank, Tenaga Nasional Berhad, Air Selangor, KWAP (Kumpulan Wang Persaraan), Inalum (Indonesia), CIMB Niaga (Indonesia), Enpeo (Thailand), and Korn Ferry (Singapore and Indonesia).
His mission is to spread awareness on gamification and help organisations create engaging user experiences by tapping into the psychology of human behaviour.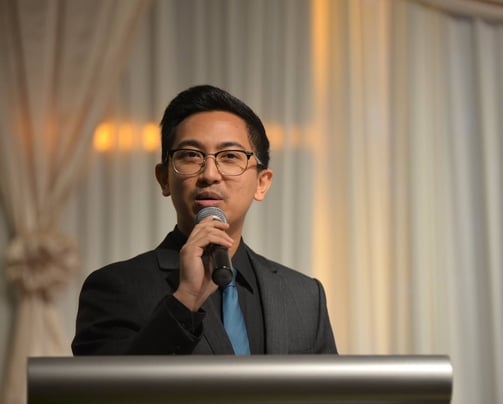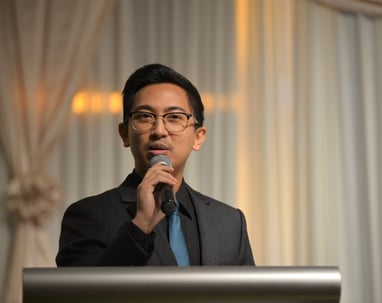 Here's what past participants have said
"I have a new point of view on the definition of gamification. I also learnt a few valuable theories about human behaviour and ideas on how to apply it in my professional job. Thank you, Sufiz!
- Muhammad Aidil Azwan bin Khanafi,
UI/UX Designer
"Very informative and learnt a lot of new stuff. Delivery is fantastic."
- Nasreen Amalina Abdul Razak,
Senior Software Developer
"The workshop is really insightful and very relevant in the current workplace landscape."
- Olivia Soo, HR Manager
"Gave more clarity on the value added to my current scope. Thank you!"
- Raja Aizad Izzudin Bin Raja Abdul Nasir,
HR Specialist
"It doesn't matter if you're trying implement it in your workplace, everyone!"
- Amiera Binti Norman, HR Specialist
"A great workshop that teaches you gamification strategies you can use to boost innovation and productivity and find your competitive advantage or blue ocean."
- Peter Kua, Head of Data Science
"Very good. Hope to have a talk over tea with the presenter."
- Muhammad Haziq Faris bin Hasnol, CEO
Ready to be a Gamification & Behavioural Design Practitioner?